Having two young daughters, I'm a huge supporter of children's literacy. While they may be at different levels, they each have their favorite books that we read over and over. And over. I'm sure you know how it is.
With summer in full gear, however, it's easy for kids to slip out of the habit of reading daily, so I make sure to set some time aside every day just for that. The entire family grabs a book, a newspaper, or a magazine and reads quietly for half an hour. I get to catch up on my favorite blogs, or the novel I'm reading, all while setting an example for my girls. It's awesome.
Speaking of awesome, Reading is Fundamental (RIF) has partnered with Macy's for their annual summertime fundraiser "Be Book Smart" which aims to raise awareness and support of children's literacy. This effort will help RIF provide free books and literacy resources to children nationwide, while expanding RIF's outreach to the children at greatest risk for developing reading difficulties. Your kids may have already benefited from RIF's programs, or maybe you did as a child!
Lasting until July 31st, the five-week fundraiser provides an opportunity for Macy's customers to give $3 to help provide a book for a child in their local community. Macy's customers will then receive a $10 coupon off an in-store purchase of $50 or more and 100% of the $3 will go to RIF. Sounds like a great reason to get your shop on while having an impact on literacy in your community!
This partnership isn't new. Since 2004, Macy's has played an integral part of helping RIF carry out its mission, raising over $21 million to support children's literacy. That means millions of free books and resources for children who need them the most. I remember those free books from RIF. They made a difference. Learn more at rif.org/macys.
Tweet Tweet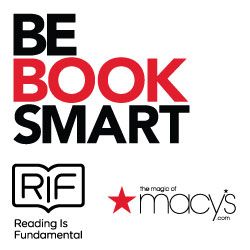 Tweet: Support children's literacy! Join the #BeBookSmart Twitter party with @RIFWeb and #socialgoodmoms 7/11, 6-8  PM EST http://bit.ly/NiH0oq (Click on the link to send a tweet!)
Macy's and RIF are also hosting a sweepstakes on Facebook to encourage supporters to share the Be Book Smart campaign with friends. Each week, one winner will be awarded a $500 Macy's gift card. For official rules and to enter the sweepstakes, visit facebook.com/macys or rif.org/sweeps.  No purchase necessary to enter or win.
Disclosure: I'm being compensated to co-host the Twitter party as part of a Mom Bloggers for Social Good campaign.