Hellmann's has some "twists" on classic recipes that will inspire you to do a little something different in the kitchen tonight! If you like bruschetta – and juicy chicken – then this recipe is for you!
This chicken was so good… light and fresh, but rich-tasting, too. The mayo/cheese mixture added a nice creaminess! My kids weren't big on this, since they don't like tomatoes, but this was probably my favorite dish out of the three I tested (go back and read my posts about Hellmann's Cranberry Orange Stuffing-Crusted Chicken and Succulent Chicken Parmesan!) I'll definitely make this again! The only thing I'd change is that I'd probably add a little more basil. 😉 Visit Hellmann's for the original recipe, also printed below. BUT FIRST! Watch this video to see how I made it… so easy and in just about 20 minutes.
PARMESAN-CRUSTED BRUSCHETTA CHICKEN
4 servings
Prep Time: 15 minutes       Cook Time: 20 minutes
INGREDIENTS
1/2 cup Hellmann's or Best Foods Real Mayonnaise
1/4 cup grated Parmesan cheese
4 boneless, skinless chicken breast halves (about 1-1/4 lbs.)
4 tsp Italian-seasoned dry bread crumbs
2 medium tomatoes, seeded and chopped
1/4 cup chopped red onion
1/4 cup Wish-Bone Italian Dressing
1 Tbsp chopped fresh basil leaves or 1 tsp dried basil leaves, crushed
DIRECTIONS
Preheat oven to 425°.
Combine Hellmann's Real Mayonnaise with cheese in medium bowl.
Arrange chicken on baking sheet. Evenly top with mayonnaise mixture, then sprinkle with bread crumbs.
Bake 20 minutes or until chicken is thoroughly cooked.
Meanwhile, combine remaining ingredients.
To serve, evenly top chicken with bruschetta mixture.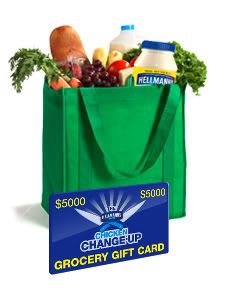 Visit the Hellmann's Facebook page through the end of April to participate in The Hellmann's Chicken Change-Up, where you can enter for a chance to win daily prizes (like a $5000 grocery store gift card!) Participate by trying one of the featured chicken recipes, sharing recipe reviews and providing advice for managing dinnertime obstacles.
Disclosure: This is a sponsored post. Hellmann's product, recipes, and additional incentives were provided to me, but all opinions stated are my own.