I turn 31 in 31 days.
Okay, now it's 17 days, but when I wrote this, early on the morning of May 2nd, it was 31. I start writing things on my iPad and sometimes they take a while to move on to the blog. Or they never do. The date of my actual birthday doesn't matter. Or are you planning on sending me a birthday present? In that case, let me know and I'll give you my shipping address. 😉
Spring is here, I'm spending much more time outside, so I set a little goal. Every day, until my birthday, I've committed myself to walking or running at least 10,000 steps everyday.
10,000
In a recent study of 592 middle-aged Australian adults, those who increased the number of steps they took during a five-year period and built up to 10,000 steps per day not only lowered their body mass index (BMI), they had less belly fat and lowered their risk of diabetes, developing better insulin sensitivity than their counterparts who did not take as many steps daily during the same time period.*
Back in January, I was averaging 3000 steps a day. Not to make excuses, but it was FREEZING outside. And I can only play Just Dance for so long before the floor starts creaking so much I'm afraid it's going to give way.
In April, I was averaging around 6000 steps, a marked improvement, but not enough.
Now, it's surprising just how much more active I have to be to reach my goal! In addition to my regular activities, I have to walk, run, or bike for at least an hour to get to 10K. Keep in mind that I'm usually doing this with my kids, so that slows things down a bit, but I'm getting there.
This isn't to say that I'm not struggling. I'm struggling with time management and eating right. The time management issue is obvious, as you've seen very little of me here on the blog. The time I would usually devote to blogging, I've spent exercising. I need to figure out how to squeeze both into my busy day! Eating right is also a constant concern. It's so easy to make the wrong choices and eat when I'm not even hungry. I just love food way too much and for as much as I try, can't seem to get off of the emotional eating roller coaster.
Also, I'm not weighing myself for the entire month. This is BIG, as I've been known to weigh myself everyday. I actually had Maya hide the scale, so I won't be tempted to pull it out. I tend to get so focused on the number that I don't think about other ways that I can measure my progress. I've realized that my bras are more comfortable, for instance. I don't feel the need to take it off in the evening, when I know no one's around (TMI?) It's a little thing which I probably wouldn't have noticed if I weighed myself and didn't see a big change on the scale. Not that I wouldn't mind losing a few pounds! Being in ONEderland for the first time in 6 years would be a truly wonderful birthday present. I'll weigh myself on my birthday, and while I'm hoping for a big number, I'll take whatever it is and keep going from there.
So… for 14 days straight, I reached (and on most days, surpassed) my goal. Some days, I found myself at 11:30pm, jogging in place at the foot of my bed, trying to get those last 50 steps in. Other days were much easier. Just look at my numbers for last week: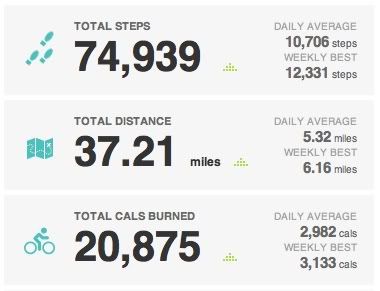 Unfortunately, this weekend I Zumba'd myself into some serious back pain. 🙁
Well, actually I shouldn't blame it on Zumba, since the pain started last week as a dull ache in my lower back, similar to the pain I felt in the weeks after getting an epidural. Nothing major, just a lingering feeling that didn't go away, which I unfortunately exacerbated by doing a long session of Zumba on the Xbox. It was so fun and I sure worked up a sweat! By 9pm last night, I could barely walk, though. The pain was excruciating, especially when I bent over to pick something up or attempted to sit down on the couch. I'd get a shooting pain from my back all the way to my knees, and almost fell at one point, as my legs totally buckled. It was scary!
Last night I took Advil and laid in bed with a bag of frozen corn on my back. I also vowed to take it easy until I'm 100% better. I know it's a pinched nerve, and sitting just makes the pain worse, so while I am getting some rest, I'm also trying my best to stay active. No Zumba or running, however, just walking. Today will be the first day in two weeks that I don't reach my goal, and I'm okay with it because I know that I can do it.
*SOURCE: Dwyer, T, BMJ 2011; 342:c7249, published online Jan. 13, 2011.