Disclosure: This post is sponsored by Cottonelle, but all opinions are my own.
Chances are if you've ever traveled through Europe, you've encountered a bidet. Something like 97% of households in Italy have one, for example. I haven't been to Europe (yet) and have never seen a bidet in person. Or maybe I did, I didn't notice… I wouldn't even know how to use it!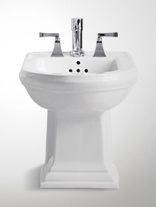 In case you don't know what a bidet is – basically, it's a bathroom fixture, which looks a lot like a toilet, that is used for washing the genital and anal area. The thought of cleaning down there… I mean, if I feel that dirty, shouldn't I just take a shower?
From reading about them, I see you still have to use the regular toilet first anyway, then move on to the bidet, being careful when turning on the water so as to not spray it everywhere and making a big mess. And then I'm guessing you'd want to dry off with some toilet paper? (Unless you have a super fancy one with an air dryer!) Then you have to rinse the bidet out. It all seems like a LOT of work! Not to mention having to clean both… scrubbing the toilet is the worst chore EVER! That said, bidet use is becoming more popular in the U.S. You can even find them for sale on Amazon!
Personally, if I just need a little freshening up, I'd rather just reach for some wipes, like Cottonelle Flushable Cleansing Cloths. Combining Cottonelle toilet paper and wipes… nothing leaves you feeling cleaner and fresher!
Continue the conversation!
Let's talk about your bum on Facebook – www.facebook.com/cottonelle.