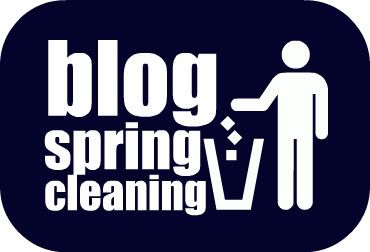 Hope you all had a great weekend! Are you still following along? You know you can always go back and look through the previous tasks, do them out of order, or skip certain ones that don't apply to you. No pressure.
So… are you registered for the BlogHer conference this summer in NYC? Many of the official parties were announced today, including a Social Fiesta that will kick off the fun-filled weekend! Read more about this party and RSVP soon, as spots are limited. Check out the list of hostesses; you may just recognize some of the names, including yours truly! I'm excited. 🙂
Day 14: Update key pages on your blog
We've already updated some important pages in previous tasks, such as your About page and blogroll… now it's time to look a little further. Well, actually, you don't have to look too deep. Does your homepage need a little sprucing up? It can be something simple. For instance, I used to change my header every season, when I had a little more time on my hands. I would also change my theme often. Maybe too often. Elegant Themes, where I got my blog's theme from, just released a new template today, called the Minimal theme. I'm loving it!
Another important page is your Contact page. I'm so surprised when I see 'PR Friendly" at the top of a blog, but then can't seem to find an email address anywhere! I love leaving comments on blogs, but sometimes it's frustrating when that's the only way you can get a blogger's attention.
You can also go back and look at the most popular posts on your blog. (You should know what those are after having completed Day 4 of this project!) See how you can improve upon those posts.
Today's homework?
Think about what pages are the most important ones on your blog. Update them. Read about this task on ProBlogger.
Update your disclosure statement. Transparency is vital – bloggers are responsible for disclosing if they are being compensated for their content in any way, whether it be direct financial gain, or through free products or services. Visit DisclosurePolicy.org and Cmp.ly for more information on this.
If you'd like to participate, leave a comment so we can visit your blog and see how you're doing! You can also link up specific pages related to today's challenge below: