Now, I don't want to get off on a rant here, but…
I hate partial feeds. Let me tell you why.
I enjoy reading blogs… and am doing so much more frequently now that I have an iPad! I use an app called Feeddler which downloads all my subscriptions to the iPad itself, so even if I'm not connected to wi-fi, I can still read my favorite blogs and sync up to Google Reader when I come back home and connect to the Internet again. I love it. It's also great for late night reading in bed. I don't visit any blogs when I do this; I just star the posts that I like so I can click over in the morning when I'm on my computer. But this isn't new. I've been reading blogs in a feed reader for a couple of years now.
A partial feed interrupts this process. I don't want to feel forced to click over. Quite often, it's a waste of my time. There are a few partial feeds that I don't mind, specifically those from newspapers, giveaway sites, and press release feeds. I can usually get enough from the headline to know if I want to read the article or not.
I understand why bloggers do this, but I still don't like it, and I don't think the reasons are very valid.
You want to get more page views. Guess what – it doesn't work. Unless you can really grab my attention in those first two sentences, I'm not clicking over. Instead, why don't you have a full feed, and end your post with a "call to action" – a question that invites your subscribers to click through and leave a comment.
Scared of someone copying your content? Create a Google Alert or two to track certain words or phrases that you frequently use in your posts.
Worried your images don't look good in a feed reader? Most readers don't subscribe to your blog for the pretty pictures.
Now, I'm not unsubscribing to these blogs, though I really, really want to. Rather than deleting them from my feed reader, I created a "partial feed" folder in Google Reader and dragged them all into it. When I don't have anything else to read, I may check those blogs out.
…of course, this is just my opinion. I could be wrong.
Day 15: Find a blog buddy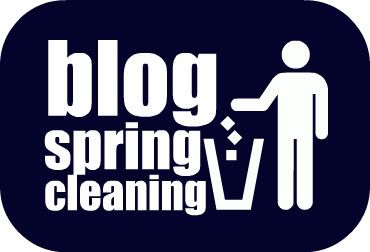 Take part in 5 Minutes for Mom's Ultimate Blog Party and you have almost 2000 potential blog buddies to choose from! It's great finding that one person that you can really connect with. Knowing someone has your back is a good feeling. You can work together on big projects, such as holiday gift guides, and get double the traffic on your blogs. Live near each other? You can organize local blogger events! So many great opportunities can arise when you have someone to bounce your ideas off of!
Today's homework?
Find a blogging buddy! Visit ProBlogger to read more on how to do this.
Take a moment to think about your RSS feed. Ask yourself some questions. How many subscribers do you have? How can you increase that number? (I'm hoping you've burned your feed to Feedburner to track your stats, but if you need help with that, let me know!) What's your take on the partial feed debate? What do you think your readers like more?
If you'd like to participate, leave a comment so we can visit your blog and see how you're doing! Link up specific posts related to today's challenge below. Just joining us? Go back through the previous tasks.