A couple of weeks ago we hosted a Chuggington-themed party for a bunch of Maya and Maura's friends. We played games, had snacks, and watched a special episode of Chuggington (the one airing tomorrow!) Hopefully these ideas will help you throw a traintastic Chuggington party for your kids!
Chuggington Party Games
Chugga, Chugga, Choo, Choo!: Instead of 'duck… duck… GOOSE!' have kids play this Chuggington-themed version!
Chuggington Chairs: Using the Chuggington theme song, encourage kids to play musical chairs.
Chuggington Dance Off: Challenge each "trainee" to create their own dance moves to the Chuggington theme song. Record their moves and create a music video for parents and kids to view after the party.
Chuggington Scavenger Hunt: Create clues or a train map for kids to follow to find a grand prize.
Conductor Says: Create your own Chuggington version of Simon Says. Conductor says "honk your horns!"
Form a "Chugga" line: Like a 'Conga' line, but with a Chuggington theme!
Pin the Wheels on the Chugger: Make a train using poster board and attach it to a wall. Using construction paper and craft supplies, have kids decorate their own 'wheels' and then have them close their eyes and pin (or tape) their wheel on the Chugger!
Red Wilson: Create your own Chuggington version of Red Rover. 'Red Wilson, Red Wilson…'
Snacks
Chuggington Fruit Salad: Fill a large bowl with fresh, brightly-colored fruit to match the colors of your favorite Chuggington characters. Remember Wilson is the red train (strawberries, watermelon), Brewster is blue and yellow (blueberries and pineapple), and Koko is lime green (honeydew melon!)
Chuggington Cupcakes: Provide kids with all they need to decorate their own Chuggington cupcakes – green, blue, and red frosting, sprinkles, and edible eyes.
The kids went home with a conductor hat, coloring sheets with their favorite characters, a pack of crayons, and a CD with a copy of the show's theme song. This video shows some highlights from the party: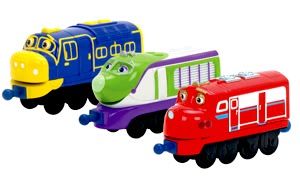 What I'm really excited about are the new toys coming out next month. Have you heard? The Official Online Chuggington Store just launched.
There are some pretty awesome-looking die-cast trains.
Check 'em out at www.chuggingtonstore.com.
You can pre-order now for mid-June delivery!
________________________________
Disclosure: I was provided with a complimentary Chuggington 'party pack' to host this party, which included some fun stuff, like those adorable conductor hats for the kids! No other compensation was received for this post.