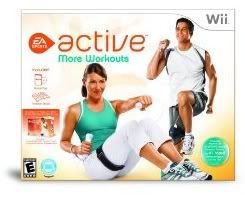 I've been using EA Sports Active: More Workouts for 3 weeks now, so I finally feel confident writing a review of it. Halfway into my 6 Week Challenge, I can honestly say I'm having a blast!
First off, you don't need EA Sports Active Personal Trainer to use More Workouts. You will have to purchase an accessory pack, however, since only the original EA Sports Active comes with the leg strap and resistance band. This makes both games just about the same price – around a $50-60 investment.
If you already own EA Sports Active Personal Trainer, the new More Workouts will set you back about $35. It imports all of your information from the first game, including your goals and profile. It's worth looking into – this expansion pack keeps your workouts fresh with tons of new exercises and fitness activities!
Like the original EA Sports Active Personal Trainer, More Workouts offers:
a great assortment of exercises
comprehensive video demonstrations for each exercise
instant feedback from your virtual personal trainer
multiplayer support so that you can workout with a buddy
the ability to create custom workouts and set goals
balance board compatibility
a workout that you can easily fit in around your schedule!
How does More Workouts differ from the original EA Sports Active Personal Trainer?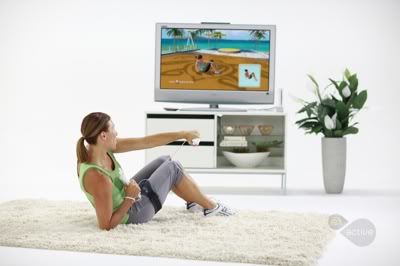 has an island theme.
over 35 new activities, including ab work, water skiing, paddle surfing, cardio boxing, step aerobics, squash, skipping rope, and an obstacle course.
warm up and cool down stretches.
6 week challenge instead of 30 days.
allows you to pick the days of the week you'd like to workout.
provides you with a weekly fitness tracker so that you can see your progress over several weeks.
Is More Workouts better than the original EA Sports Active Personal Trainer?
I can't say. I like both… but if you're only buying one right now, choose More Workouts.
More Workouts has abdominal exercises, and warm up and cool down stretches, which really make it a full body, structured fitness plan. It also comes with a book full of fitness and nutrition tips that will get you on the right track. I like how squats and jumps are integrated more into sports activities, like the lunges in Squash, for instance.
This doesn't mean I'll be getting rid of my copy of EA Sports Active, though. I have favorites in both games, though More Workouts has definitely improved upon the quality of the exercises. For example, where EA Sports Active has you running in place, More Workouts kicks it up a notch by creating an obstacle course where you not only run, but you sprint, do lunges, jumps, and more. It makes the time go surprisingly fast. The warm up and cool down stretches, while a nice feature of More Workouts, are the same every time, so that has definitely gotten old. Ideally the stretches would vary from day to day, just like the workouts do.
To sum up, by combining both games, it's virtually impossible for me to get tired of the exercises! I'd say buy both if you can afford to, because the extra variety really helps you keep up with your workouts. Getting bored with a routine is usually what causes people to fall off the fitness wagon. I'd buy EA Sports Active later on, after completing the 6 week Challenge, to add a little more variety into your exercise program.
I'll be taking my workouts to the next level this week, literally, by moving up to the next intensity – hard. The resistance band seems to be getting weaker, so I may have to invest in a new one. I'm very happy with both EA Sports Active games, though, and would recommend them to anyone who wants a good, full body workout in the comfort of their own home.
I was provided with complimentary copies of both EA Sports Active and More Workouts, but the opinions are my own. Other than product samples, no compensation was received for this review.