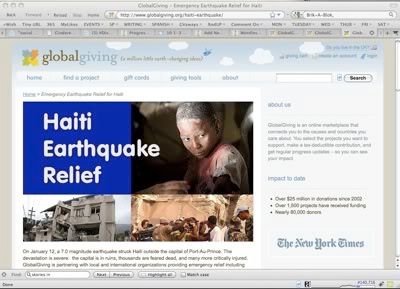 I just made a donation to help earthquake victims in Haiti via GlobalGiving, a website that connects you to the causes you care about most. This donation will go towards providing emergency assistance and critical necessities including water, food, shelter, and medical care.
You can support GlobalGiving's Relief Fund for Haiti Earthquake – as I did – which is allocated amongst all projects, or give to the efforts of a specific organization, such as Partners in Health, VIDA, or the International Medical Corps. Just select the projects you want to support, make a tax-deductible contribution, and get regular progress updates – so you can see your impact.
This isn't a sponsored post. I was given several GlobalGiving gift cards last year, and had been holding on to them, waiting for the "right" project to come up. That time is now.
I'll give a GlobalGiving gift card ($20 each) to the first two people that leave a comment expressing interest; leave a valid email address so that I can email you the code. You can choose how the donation is allocated.