Maura, being a second child, always inherits the hand-me-downs from her older sister, be it clothes or toys. She doesn't seem to mind it, but does get especially excited when she gets something just for her. This is why she's thrilled with her VTech InnoTab 3S that we've been testing out for the past few weeks!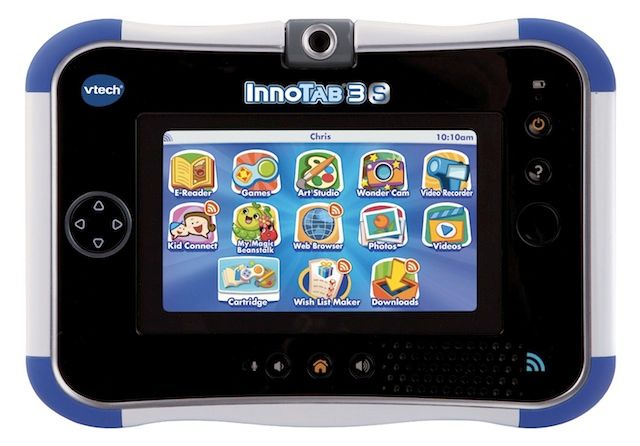 What Maura loves about the InnoTab 3S:
It has lots of games and activities already installed – 20 – so she could practically play it straight out of the box.
All the creative options that are at her fingertips – coloring pages, picture-taking and fun editing with the camera, and the video recorder!
Music! She can listen to her favorite mp3s.
The calendar. She can add notes to it, just like mommy.
Kid Connect! (More on this below!)
What I love about the InnoTab 3S:
It's rechargeable, because buying batteries is so expensive, not to mention wasteful. And the battery life is pretty good!
You can increase its memory via a micro SD card. Plenty of space for all the videos and pictures Maura takes, and tons of music.
Hundreds of games are available for download from the VTech store, so she'll never get bored. You get one free with your initial purchase of the InnoTab.
Every game has an educational component. No mindless, addictive apps.
It's built to withstand a kid's tough play. Sturdy and well-protected, It's been dropped quite a few times, juice splashed on the screen, etc., and it's no worse for wear, which makes it great for travel.
The stylus. It allows Maura to practice writing and drawing with an actual instrument, as opposed to her finger. And it's attached to the tablet so it won't get lost.
Volume control! Ha!
Wifi, which allows Maura to browse approved websites and use…
Kid Connect!
Kid Connect is definitely our favorite feature. With this service, kids can send texts and stickers to their parents' smartphones in real time, and vice versa, whether they're in the next room or across the country visiting grandparents. Maura can only 'connect' with people that I approve, so I can rest assured that she is only communicating with people I know and trust.
The InnoTab 3S comes with a one year free subscription of Basic Kid Connect. Signing up for it was easy. I just registered within the Learning Lodge software (which you download to your computer when you set up your InnoTab), then installed VTech Kid Connect on my iPhone, signed in, and started messaging! We upgraded to "Kid Connect Premium" to take full advantage of all it has to offer. With this upgrade, in addition to texts, Maura can send photos, drawings (like the one to the right), and even audio messages from her InnoTab 3S to my phone!
So far, there have been a lot of "I love you" messages, heart drawings, and sweet audio recordings. This is going to be especially valuable when my husband and I go away next weekend, to celebrate our anniversary. Maura will be able to get in touch whenever she wants, and I'll be able to hear her precious voice anywhere I want.
Sometimes she's so serious when she's using her InnoTab 3S…
And at other times she can't stop giggling!
But all this fun does come with a price! For the first two weeks after registration of your InnoTab 3S, a Deluxe Apps package with Kid Connect Premium is available for $14.99. The package also includes Movie Maker (a $7.99 value), a fun and exciting stop-motion animation app that lets kids become movie directors. Once the two week promotional period is over, Kid Connect Premium can be purchased separately for $14.99. It only works on Android or Apple phones, and it's awesome! Definitely worth the price. For more information, visit www.vtechkids.com/kidconnect and watch this video:

BUY IT!
While the VTech InnoTab 3S may not be as fast as an Android or Apple product, it's a great starter tablet and a wonderful way for kids to learn the ins and outs of texting, digital photography, and web browsing in a safe, controlled environment, not to mention all the educational game options available. There are even more features we haven't tried yet! Recommended for children 3 to 9 years old, the InnoTab 3S is available online and at retailers nationwide. Its price recently dropped from $99.99 to $79.99, just in time for the holiday season. I also saw that it's available in pink (but shhhh! Don't tell Maura.)
WIN IT!
A lucky TDB reader will win an InnoTab 3S from VTech! To enter to win, please fill out the Rafflecopter widget below. US residents only.
Disclosure: We were provided with an InnoTab 3S and a free Premium Kid Connect subscription by VTech to facilitate this review, but all opinions are my own.