10, 9, 8, 7, 6, 5, 4, 3, 2, 1, blast off!!!!
That's the first thing my daughters called out when they stepped into their Shuttle Imagination for the first time. They truly are having a blast in this unique playhouse.

The Shuttle Imagination, by KidsCraft, is one of two eco-friendly playhouses that the company offers, though more are in the works. Made of a sturdy cardboard, I've never seen any other product like this but think it's a wonderful idea. It's no secret that kids love playing with boxes, and this takes that notion to the next level!
It's easy to put together.
I have to admit I was a little intimidated when I saw the huge box from KidsCraft on my doorstep. Once I opened it, set out the pieces, and glanced at the instructions, I realized that it wouldn't be so bad after all! The assembly instructions were clear and included photos, which is always helpful.
Making a sturdy structure out of cardboard doesn't sound like an easy feat, but KidsCraft does it well with a neat system of tabs and slots. This pieces lock together like a puzzle and no special tools – not even scissors – are needed. An extra pair of hands wouldn't hurt, but I was able to put it together myself in around 15 minutes. This was without any kids running around, though. I had them stay in the playroom until their "surprise" was ready.
My first impression… WOW! This is bigger than I expected! It's hard to judge the size from photos. It even has a floor! This has to be what makes it so sturdy. Otherwise the kids inside could topple it over. Because of their size, it's important to assemble this playhouse in the same room you want it to stay. The shuttle doesn't fit through my doorway, so I'll have to take it apart somewhat if I decide it's time for the girls to take their missions elsewhere.
It's SO fun!
Three kids can fit comfortably in the Shuttle. Three or four other kids can stand outside and color it. I can tell you this from experience, because – yes – we had that many kids over to try it out. It's 6 feet tall, so even I can stand inside it! This made my girls giggle, as I couldn't really do anything but stand there looking silly!
The girls keep a flashlight inside, though the windows do let a lot of light in. They go on pretend adventures to the moon and Mars (because I don't think they know of any other planets yet!) and befriend aliens (i.e. their cousin, Keyla).
My kids have been drawing on this everyday with their friends. They've almost exhausted the white outside, and have moved inside, painting furniture and putting "works of art" on the walls. I did hear my 5-year-old mention that she wished "the inside was white, too" because colors don't show up so well on brown cardboard. If your kids tend to like writing on walls, this gives them an outlet for their creative energies.
I could see this being a fun craft activity – and an amazing centerpiece – for a space-themed birthday party. It would also be a great thing to order if you're going to spend a week or two at grandma's house, or somewhere else where toys aren't readily available. Grandma could just throw it out once the kids leave!
The only issue I found with it is that the bottom of the doorway is raised about 3 inches, and many kids have tripped on that when they climbed in or out. I expected it to rip at that point, but it hasn't. I'm surprised at how well it's holding up. It is cardboard after all.
It's eco-friendly.
It's pretty obvious why. The playhouse is made in the USA from 100% recycled material! When your kids are finished playing with it, you can break it down and set it next to your weekly recycling. Plus, KidsCraft has partnered with the Trees for the Future Foundation, and will plant one tree for every product sold.
BUY IT!
The Shuttle Imagination sells for $69.95. There's also a Creative Cottage available for $59.95, that is adorable! Just under 5 feet in height, it has a front door, several windows, and even a chimney. In honor of EARTH DAY, KidsCraft will offer free shipping on the Creation Cottage and Shuttle Imagination through 4/30/2010! For more information on their playhouses, visit www.kidscraftusa.com, and follow the company on Facebook and Twitter.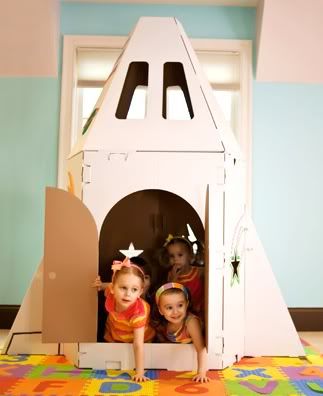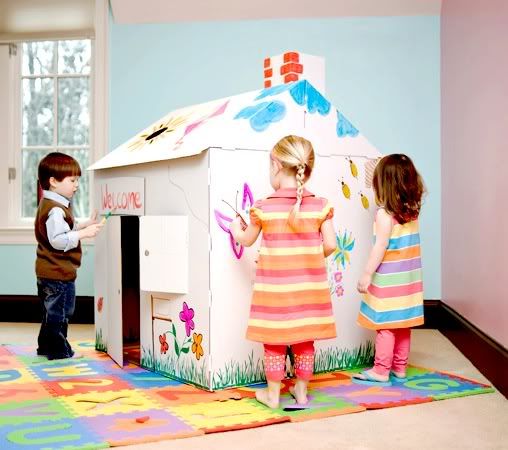 WIN IT!
One lucky reader will get to pick one of these out-of-this-world playhouses for themselves – the Creation Cottage or Shuttle Imagination! To enter, please visit www.kidscraftusa.com, take a look at the products they offer, and leave a comment here telling me which playhouse you'd like if you were to win.
For extra entries:
Subscribe to my feed by feed reader or email (or let me know if you already do).
Follow me on Twitter (@OhMariana) and tweet about this giveaway: Giveaway! I just entered to win an eco-friendly KidsCraft playhouse — http://tinyurl.com/29mz4zn #RWNH (pls RT)

Tweet about this giveaway once a day for the duration of the contest (leave a comment each time).
Link to me in your sidebar or blog roll. Feel free to grab my button (at the bottom of the page).
KidsCraft provided the samples for review and giveaway at no cost to me, through a campaign organized by KidStuff PR. Contest ends May 2nd, 2010 11:59 pm EST. US entries only, one person per household. Leave a separate comment per entry & a valid email address. Winner, chosen at random, has 3 days to claim prize.