Next time you're in the market for a new toy, consider a trip to your neighborhood toy store! With the holidays almost upon us, how about tomorrow, maybe?
Saturday, November 10th happens to be the 3rd annual Neighborhood Toy Store Day! To help kick off the holiday season and celebrate the joy of shopping for toys, participating toy stores will host local in-store events for families, such as craft sessions, raffles, and live performances, and maybe even offer special discounts!
Why? Neighborhood Toy Store Day introduces families to the fun of shopping locally and celebrates each toy store's commitment to the community. The annual event is coordinated by the non-profit organization ASTRA, the American Specialty Toy Retailing Association. To find a local Neighborhood Toy Store Day event near you, visit ASTRA's new website www.yourneighborhoodtoystore.org.
About www.yourneighborhoodtoystore.org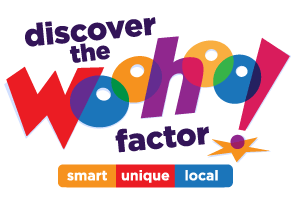 www.yourneighborhoodtoystore.org is an online resource for parents interested in learning more about the best toys on the market and where to find them. Its mission is to help parents discover the "woohoo factor" – or the delight, the joy, and the excitement – of finding and playing with today's best toys! The website features articles with expert advice on toys and play for children of all ages, a local toy store locator, toy buying guides, and much more. Just type in your zip code in the store locator at the top of the page to find all the local toy stores near you!
High quality toys found at your local toy store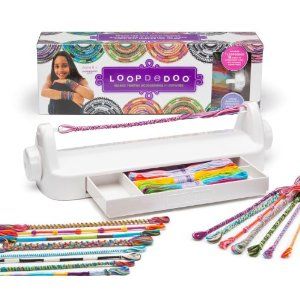 Loopdedoo, by Ann Williams, is a winner of ASTRA's Best Toys for Kids 2012 award. This spinning tool allows kids to make twisted accessories like bracelets and belts in minutes using ordinary embroidery floss! My daughter and I have had lots of fun making cool bracelets like the ones pictured below. Each creation is completely unique and one-of-a-kind, and you know what's awesome? It's kid-powered – no batteries. For holiday gifts, we're going to make bracelets for all of Maya's friends in her school's colors! Loopdedoo comes with the spinning tool, 18 skeins of colorful embroidery string, and detailed instructions. Aimed at kids 8 and up, it retails for $34.99.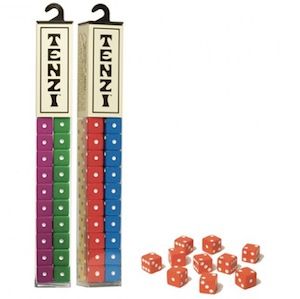 Tenzi, by Carma Games, is also a winner of ASTRA's Best Toys for Kids 2012 award. Touted as the world's fastest game, this exciting dice game challenges players to get all 10 of their dice to land on the same number. Easy enough, right? It's fun for all ages – mom, dad, and even little sister! And I love that it moves quickly because you know how easily kids get distracted. For 2-4 players ages 7 and up, Tenzi retails for $14.99. I wouldn't recommend playing it on a glass table, however! (Quite the racket, haha!)
Like all winners of the ASTRA's Best Toys for Kids 2012 award, Tenzi and Loopdedoo were chosen for their ability to promote open-ended and creative play, their creative design features, and exceptional safety standards. Just two examples of the types of quality toys available for sale at your neighborhood toy store!
The benefits of shopping local
Supporting independent retailers not only fosters a sense of community, it provides some real benefits to consumers and the neighborhood they live in. Did you know that according to the 3/50 Project, for every $100 spent in local, independently-owned stores, $68 returns to the community in the form of taxes, salaries, charitable contributions, and more… in contrast with only $43 when consumers spend their money at a national chain? Here are a few benefits of buying local:
Economic stability. Spending your money at an independent retail store supports the local economy. Local businesses create jobs, fund city services through tax dollars, and promote neighborhood development.
Community development. Local businesses foster community well-being by building strong neighborhoods, sustaining communities, and contributing more to local causes. These stores add unique character to the local neighborhood, increase the quality of life for residents, and contribute to the value of homes in the area. Local ownership also means local decision-making by people who live and work in the community, who are therefore personally invested in its success.
Reduced environmental impact. Local stores help sustain vibrant, compact, walkable town centers, which in turn are essential to reducing sprawl, automobile use, habitat loss, and air and water pollution. Neighborhood stores require less travel for consumers which decreases travel congestion and carbon usage.
A diverse product selection. Small, locally-owned businesses select their own product mix, guaranteeing a much wider range of product choices for everyone in the community. Independent stores tend to carry many of high-quality, boutique, and specialty products not typically found at big box stores.
Better customer service. Small business owners are committed to keeping customers happy. They tend to tailor their product offerings to meet the needs of the community, host local events, and create incentive programs for loyal shoppers.
For more information on Neighborhood Toy Store Day, please visit:
Disclosure: This post was written as part of a Team Mom campaign on behalf of ASTRA, the American Specialty Toy Retailing Association. I received the two toys pictured above as a thank you for sharing this information with you.