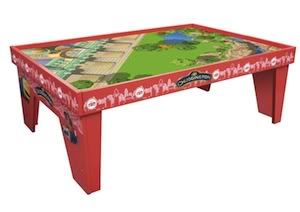 We used to set up our Chuggington tracks on our coffee table, but it's made of glass, so I didn't like doing so too often. Our alternative was the floor, which isn't very comfortable. Sigh. What to do?
I honestly never considered buying a train table… I have two little girls, after all! But now that we have the Chuggington Let's Ride the Rails Playtable, I can't believe we didn't get one sooner! It's the first quality train table made specifically for the Chuggington brand.
SET UP
The Chuggington Playtable arrived in a big box. It's heavy (50 pounds or so, I'm guessing), so the delivery guy was nice enough to bring it into the house for me.
I was impressed by how the table was packaged. Many parts had screws pre-installed, and no pieces touched each other so nothing was scratched in any way during transit.
As far as putting the table together, I was planning to do it myself, but my husband insisted he'd do it, mostly so I could fix him lunch. 😉 In the time it took me to heat up the previous night's leftovers and toss a quick salad, he was done! But he is handy. I'm sure it would have taken me a little longer. That said, the the instructions are simple – only 4 steps – and the only tools you need are a wrench (included) and your own screwdriver. I suggest taking all the parts to the room where you plan for it to stay, since it is kind of big once it's complete.
FIRST IMPRESSIONS
This fun, kid-friendly table is so colorful, it's become the centerpiece of our playroom. Both the board and table are decorated with fun and vibrant Chuggington graphics.
Just over 4 feet long and almost 3 feet wide, I could see this being a little too big to put in a child's room (it certainly wouldn't fit in my daughter's bedroom), but it makes our playroom feel complete! We placed it in the middle of the room, so the girls have access to all four sides.
Maura and I immediately set up all her wooden tracks on it and played for a long time, just me and her. She loves playing independently, but sitting down and enjoying some Chuggington time with her is wonderful. This table makes it that much easier because it's just the right height for little engineers to play! There is plenty of room around it so a group of kids can play together. This was hard to do when we had the tracks on the floor.
As far as safety, the corners of the table are protected by bright yellow bumpers. This is a great feature because it makes it so there are no sharp points anywhere. The table itself is very solid. Because of its weight, the girls can't push it around, which I appreciate.
The top of the table is made out of two fairly thin boards; I've warned the girls that these aren't made to hold their weight, so I'm trusting they'll respect this rule and not sit or stand on it. There is a support in the middle, though, and I don't think this takes away from the sturdiness of the table at all. It just makes it easier to set up and take down. You can see a slight groove where the boards meet, but it doesn't take away from the beauty of the table.
Printed on the board is a train station, mountains, trees, a river and a lake, giving kids a little something to fuel their imagination. Maura was appalled that I set up the roundhouse on top of the lake, LOL! I like that the sides of the table are enclosed, so whatever is on it remains there. We used to have Chuggington stuff all around the house; now I'm hoping it'll all stay in one place!
NEXT STEPS
I'm going to buy some nice baskets or bins to put under the playtable for all our trains, tracks, and other Chuggington accessories. The girls also like to use the table for tea parties, so it'll be nice to be able to clear everything off of it, yet still keep everything organized and tidy.
BUY IT
Intended to go along with the Chuggington Wooden Railway, the Let's Ride the Rails Playtable by Learning Curve retails for $249.99. Is that about average for a train table? It seems reasonable. You can visit the Learning Curve website for more information.
WIN IT
Giveaway has ended.

You may or may not have a Chuggington train set already… or maybe Santa is bringing one for Christmas. Either way, how would you like to win this train table for your kids? Leave a comment below telling me what your favorite Chuggington toy is, and I'll pick a winner at random on Wednesday, January 4th. Visiting Learning Curve or Toys "R" Us for ideas.
Prize: (1) Chuggington Let's Ride the Rails Playtable by Learning Curve. A value of $249.99. Trains and tracks must be purchased separately.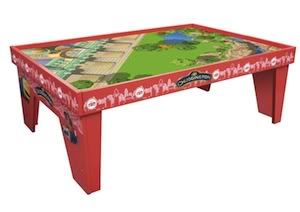 For extra entries:
Tweet about this giveaway up to once per day using the Tweet button below, or copy this: #Giveaway! Win a traintastic Chuggington train table at The Domestic Buzz! http://ohsocrazy.com/?p=15361 #TDB – 1 entry per day
Like The Domestic Buzz on Facebook. 1 entry
A product sample was provided to facilitate my review, but all opinions are my own. Learning Curve also supplied the giveaway prize. Giveaway entry period ends Tuesday, January 3rd, 2012 at midnight. US entries only, one person per household. Leave a separate comment per entry and a valid email address. Winner, chosen at random, has 3 days to claim their prize. Find more of our Chuggington content here.