Last weekend my girls and I went to see Dora the Explorer, The Backyardigans, The Wonder Pets, and Kai-lan, live at the Warner Theatre in Washington, DC.
Nickelodeon's Storytime Live! is currently touring the country. This brand-new stage production pulls from various childhood stories, but adds a unique Nickelodeon twist. Kai-lan jumps on clouds with the Monkey King, the Backyardigans rescue Filthingham with Robinhood the Clean, the Wonder Pets hop into Wonderland, Dora and "Sleeping Boots" explore Fairytale Land, and Nick Jr.'s Moose and Zee guide us through it all.
Featuring characters from four of the current top-rated preschool television shows, this is a perfect way to introduce children to the theater in an informal and familiar manner. Even if your kids only watch one of those shows mentioned above, they'll still enjoy the performances. The actors give it their all, so much so that you almost forget there are people behind those costumes! Don't expect this to be a quiet show – just like in the cartoons, the characters ask the audience for help, and the crowd gladly obliged. You can't help but sing along to the music.
My daughters were so excited about their first visit to a "real" theater. The Warner is beautiful – so elegant inside. Usually kids aren't allowed at the shows so this was a real treat for them!The Wonder Pets story was a little slow; I wish they had acted out one of the stories like they do in the cartoon, where they rescue an animal. Instead, they did a strange Alice in Wonderland-themed act, which my kids didn't really understand. Ming-Ming, the duckling, was adorable, though! Unfortunately my 2-year-old lost interest during the Wonder Pets, and wasn't able to get back into it until Dora started singing. On that note… they saved the best for last, with Dora! The actress that played her was amazing. So full of energy and completely into her character!
I'd definitely go to a show like this again. I enjoyed it just as much as my daughters. If you have a toddler, however, you might think about waiting until they're a little older, unless you know for a fact that they'll be able to sit through a 1 1/2 hour performance. Storytime Live! continues its tour of the United States. Check www.nicklivetour.com for shows in your area.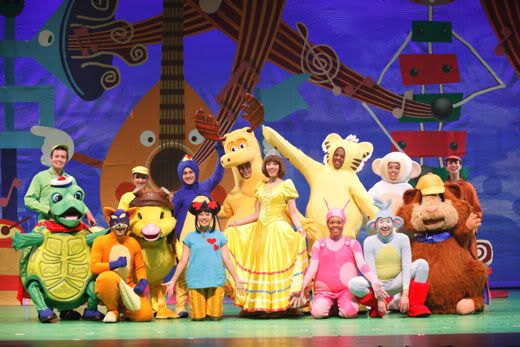 To facilitate this review, Nickelodeon PR provided my family with complimentary tickets to Storytime Live!
_____________________________________
I've got a fun Kai-Lan DVD to giveaway.
Ni Hao, Kai-Lan: Kai-Lan's Carnival.
Want it?
Subscribe to my blog my email or feed reader and leave a comment on this post.
I'll pick a winner next Saturday, May 1st.