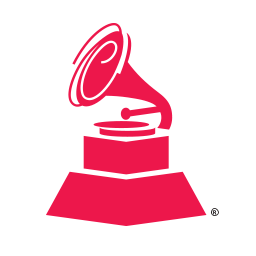 If I were to describe my experience at the Latin Grammy Awards in one word, it would be – INCREDIBLE! I haven't had that much fun in one night in a long time. It was such an amazing evening, filled with music, dancing, and lots of laughter!
I must admit that it didn't start out that way, however… I had a VIP pass to be on the green carpet, so I was in a rush to get ready after we checked in to the hotel.
I ran downstairs to the Mandalay Bay, where everything was happening, and I got so, so lost. That place is huge! I wandered for what felt like forever until a nice security guard was finally able to explain to me that the green carpet was canceled, due to rain. It was pouring! "Nunca llueve en Las Vegas," he said repeatedly. "It never rains in Vegas."
I wasn't going to let a little rain put a damper on my evening! Since I had some extra time, and my feet couldn't bear walking all the way back to my room, I hung around the entrance to the Mandalay Bay Events Center, where a huge crowd of people had gathered, most without tickets to the show, just hoping to sneak a peek at a few of their favorite celebrities.
People were there from all over the US, and even Mexico! Some had flown in from across the country (like me!) and others had driven from as far as Arkansas and Texas. I was one of the first to walk into the arena when the doors opened, along with all the seat-fillers. If I lived closer to a big city, I'd totally apply for that job. It looks so fun!
The room slowly filled with excited people… you could feel the energy rising. My husband finally found me, and the show started soon after. We were so close to the stage!
Honoring excellence in the recorded arts and sciences, and broadcast live on Univision, the 14th Annual Latin GRAMMY Awards was truly 'The Biggest Night in Latin Music'. There were so many amazing performances and heart-warming moments! Lucero, one of my favorite Mexican actresses and singers from my childhood, was the host of the show yet again (I think she's done it 8 times!) She's just beautiful and seems so sweet. You could really see her personality shine through during the commercial breaks, when she's be a little goofy at times.
These are just a few of my favorite moments from last night's show. Full list of winners here.
Wisin, of the Puerto Rican reggaeton duo Wisin & Yandel, kicked off the show, pumping up the crowd with his hit "Que Viva la Vida". He was on fire!
Pitbull won for "Best Urban Performance," for his song "Echa Pa'lla (Manos Pa'rriba)" featuring Papayo. I just love him.
Carlos Vives took the stage next, performing his song "Volví a Nacer," which I've been listening to nonstop. It's beautiful and won "Song Of The Year"! He also won "Best Tropical Fusion Album". Well-deserved.

I saw Enrique Iglesias in concert more than 15 years ago, when he was just starting out, and he still makes my heart skip a beat! LOL! He sang his single "Loco," featuring India Martínez.
The audience twinkled during the performance!

The performances were definitely the focus of the show. Ricky Martin and Draco Rosa performed "Más y Más" which had the audience captivated. Then came Pablo Alborán with his song "Tanto."
You may remember a catchy song from a Target commercial over the summer – "Ula Ula". Ilya Kuryaki and The Valderramas won their first Grammy for "Best Urban Song" for this catchy tune! I can't get it out of my head!
Marc Anthony. Ahhhh. He stole the show with his performance of "Vivir Mi Vida". He poured his heart out on that stage, getting everyone – everyone – on their feet dancing, and received a standing ovation after. The only artist that got that kind of reaction from the crowd last night! I was thrilled that he won "Record of the Year" for it. He deserved it.
WOW! Words cannot explain how thankful I am to have won record of the year!! Unbelievably thankful! #LatinGRAMMY

— Marc Anthony (@MarcAnthony) November 22, 2013
One of the performances I was most looking forward to was Pitbull! During the commercial he was lifted up in the middle of the arena and was looking down, getting everyone hyped up. He sang his Grammy-winning song "Echa Pa'lla (Manos Pa'rriba)", and then Enrique Iglesias surprised us, joined him to perform "I Like It".
Probably the sweetest performance of the night was Natalie Cole singing "Acercate Más" with her father, Nat King Cole. She's so beautiful and elegant.
The Latin Grammys ended with a bang, when the Salsa Giants – Oscar de León, Willy Chirino, Tito Nieves, José Alberto El Canario, Ismael Miranda and Sergio George – went on stage to sing their hit "Para Celebrar".
Confetti everywhere… people dancing in the aisles – so fun!
You'd think that was it for me, but I still had another fiesta to go to – the official Latin Grammy Awards after party! The indie band Jenny and the Mexican'ts performed – I'm their newest fan!
There was also a DJ spinning Latin and hip-hop music, and lots of delicious food and drinks.
The Chrysler brand gave party guests an up-close look at the 2014 Chrysler 200.
It's beautiful! So stylish!
There was a Chrysler brand commercial before the show started, featuring Carlos Vives. Did you see it? This tweet (translated) says it all: "Carlos Vives in a Chrysler. Now I know what car to buy."
Carlos Vives en un Chrysler. Ya se que carro no comprar.

— Kasique (@Kasique_) November 22, 2013
I can't thank the Chrysler brand enough for giving me the opportunity to attend the 14th Annual Latin GRAMMY Awards. To have shared this wonderful event with my husband is a true blessing! 13 years ago today we were married right here in Las Vegas, just a few miles away, at the Little White Chapel. I couldn't think of a better way to celebrate our anniversary!
Disclosure: The Chrysler brand sponsored my trip to the Latin Grammy Awards, but all opinions are my own.